This page gives you instructions for resetting your password.
1. Go to the UNITE login page and click the "Lost your password?" link to display the password recovery page: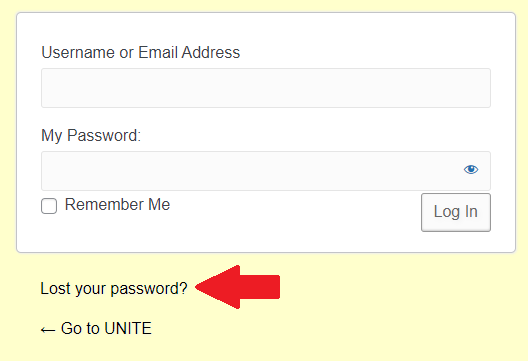 2. Alternatively, you can go directly to the password recovery page:
3. On the password recovery page, enter either your UNITE username or the email address associated with your membership. Then click the Get New Password button. Any existing password for your account will not be affected until you complete the password reset process in step 7 below.
If you enter a username, the UNITE site will send an email to the address on file for that user.
If you enter an email address, the site will send an email to that address.
Note, however, that if the username does not exist, or the email address is not associated with any UNITE membership, the site will silently do nothing. You will not receive any indication that the membership does not exist. This is done to prevent bad actors from harvesting member usernames and email addresses using a brute force attack.
4. Be sure to check your spam folder or spam quarantine for that message, which will be from "wordpress@unite.org" and will have the subject "[UNITE] Password Reset."
5. The email message will show your UNITE username. Click the password reset link in the message to display the password reset page in your web browser.
6. The password reset page will offer a new, random password. You can accept that password, click the Generate Password button to offer a new one, or enter a password of your choice. Clicking the "eye" icon on the right side of the password field will toggle between showing and hiding the password cleartext.
7. When you are satisfied with the password, click the Save Password button. Unless and until you click that button, any existing password for your membership will remain in effect.
8. Finally, go to the UNITE login page and log in.
If you have problems resetting your password or logging on after a reset, please contact us at support@unite.org for assistance.